Whoever ate the salmon would acquire this knowledge
There are certain pieces that just look harmonious in natural settings. In our beautiful scenic country of Ireland there are so many fabulous stories and legends depicting characters and creatures with wonderful powers, I have made many commissions featuring these such as The Salmon of Knowledge, Fairies and Cuchulainn. Within the natural scenery theses pieces come to life; fairies look like they belong in the Wicklow vale, spinning on water, they are magical and mesmerizing. Each piece is made with it's new home considered; design, scale, materials, finish, poses and stance all are deliberated to ensure the best result. Outdoor sculpture is enjoyed by all who see it, keeping memories, stories and history alive, provoking conversation and thought, it is a generous gift and one which keeps giving for generations.
"Come Fairies, take me out of this dull world,
for I would ride with you upon the wind and
dance upon the mountains like a flame"
William Butler Yeats

There are many reasons for commissions, a special event, a commemoration, a piece of public art or corporate assignment. Personal commissions for memorials for lost loved ones are a lovely tribute to keep a memory alive and celebrate a loved ones life. This is an area I feel honored and privileged to work in and I have many clients who have received some comfort from my pieces. Read More
I have made many commissions for various clients; corporate art, sculptures for public spaces and personal sculptures for individual clients who had a specific piece in mind. Each piece is made to the client specifications with materials to suit the purpose and client needs. For many of my pieces a conversation is necessary to discuss the various options available, if you would like to discuss a bespoke commission please do contact me and we can discuss your options.
"Fantastic Mr Fox. I love him so much and yet again I can only thank you from the bottom of my heart for making him for us. I doubt I would ever have been able to find anyone else who I felt so comfortable letting them work on such an important memorial for me."
In memory of Jim (Mike)
Fairies are invisible and inaudible like angels. But their magic sparkles in nature. ~Lynn Holland
I'm delighted to do sculptures for clients all over the world. My pieces have been shipped worldwide and my international clients are thrilled with their artworks.
There is pleasure in the pathless woods,
there is rapture in the lonely shore,
there is society where none intrudes,
by the deep sea, and music in its roar;
I love not Man the less, but Nature more.
Lord Byron

"Take some more tea," the March Hare said to Alice, very earnestly.
"I've had nothing yet," Alice replied in an offended tone, "so I can't take more."
"You mean you can't take less," said the Hatter: "It's very easy to take more than nothing." Lewis Carroll
"But if you tame me, then we shall need each other.
To me, you will be unique in all the world.
To you, I shall be unique in all the world."
When designing a contemporary garden, be it private or public,
it should be remembered that it has to be not only functional and aesthetic,
but it should also have some theme and unique atmosphere –
this canbe achieved through, for example, artistic objects.
Properly selected and placed to catch the eye,
they arouse emotions and engage the intellect.
Every historical epoch and all types of garden have their own distinctive sculptural themes and materials.
Mariusz Szmagara
"Creativity is the Blue Heron within us waiting to fly; through her imagination, all things become possible."

N J Brown
Emma Jane sculptures can live in the most rural or urban landscapes. They are magical and bring life to a garden, woodland area or water feature. If you are interested in a larger piece or have something specific in mind I would love to discuss options with you.
"Art made by the people for the people,
as a joy to the maker and the user"
William Morris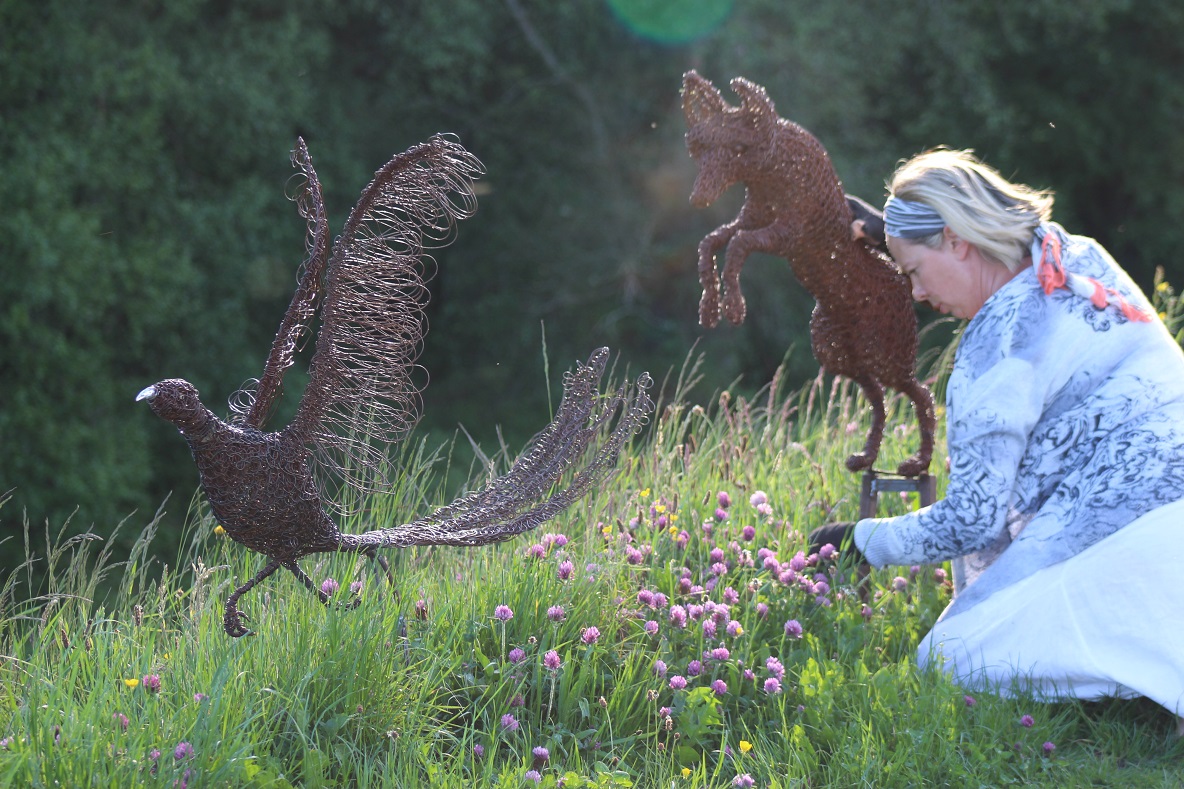 I have made so many wonderful commission over the years and each one is unique and special. I would love to help you in any way I can to make sure you get your special piece.
For inspiration Click Here to see the Gallery of Images
These pieces are works of art that will last for years.